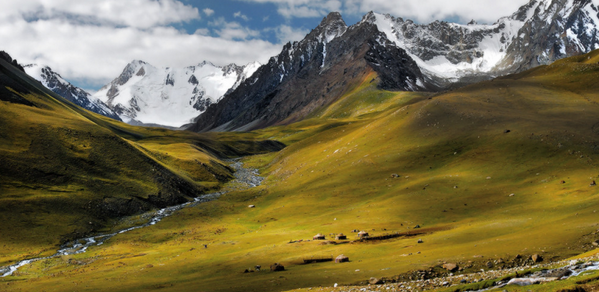 I really hope that he story of Mountains Queen – Kurmanjan Datka touched many of yours' hearts. So, hoping that every detail and information, which is connected to her, will be interesting for you, I decided to write about the place of her residence – Alay valley, just next to the province of Osh.
Alay is a great valley, with the view of breathtakingly beautiful mountain ranges, usually covered in fresh green. The fresh air, which is one of the reasons why nomads, living there were pretty healthy, the grasses all around, which add specific fragrance to the atmosphere and make it so comfortable to feed the cattle, these are all what attract not only the nomads, but also the tourists to the place.
There in Alay, you will also find a perfect recreational place, which is called Jyluu Suu (warm water). That is where one of the warm springs of Kyrgyzstan located and the visitors enjoy the swimming pools filled with warm spring water in their vacations.